Feria de Recoleta
More than just a weekend street fair, the Feria of Recoleta is the heart of the district. The most popular of the Buenos Aires Saturday markets you will find every type of person and thing for sale at the recoleta weekend fair.
Open on the weekends and holidays and located at the corner of Pueyrredon Avenue and Libertador Avenue and expanding across Plaza Francia it is the best place to get souvenirs of the city and of Argentina. A must visit location while you are in Recoleta, make sure you schedule your visit for when the market is open.
Also known as the Feria de Artesanos de Plaza Francia, the area in the Plaza focuses on hand made items that show of the skills of the artesans of Argentina. Leather and wood are formed in both traditional and modern forms, as well as silver, gourds, pottery and all manner of jewelry.
Street foods, live music and performers such as acrobats can also be found here. It is family friendly, but you'll also be savouring the Buenos Aires' bohemian spirit which is rich in Recoleta!
Opening on Saturday and Sunday, as well as holidays, from 11am or just before noon until 6pm or dusk.
Website: feriaplazafrancia.com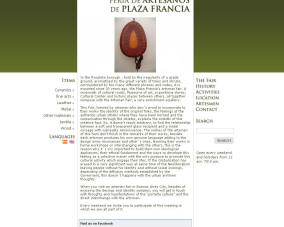 Nearby as well as the Cemetery you will find also:
The Museo de Bellas Artes, which is the fine arts museum
Floralis Generica, the flower sculpture which opens and closes with the sun, just like a flower. Find it at Plaza de las Naciones Unidas.